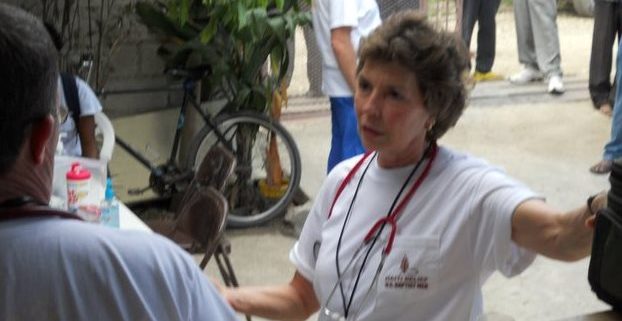 This is part 7 of the "Eleven Days in Haiti" series that started here: http://fbcbridgeport.org/eleven-days-haiti-part-1-series-intro.  Be sure to get caught up if you missed a prior post!
---
DAY 5—A ROLLER COASTER RIDE OF SORTS
Just when you think you might be sensing a routine in this desperate environment that is post-earthquake Haiti, things change once again. Jude, one of the local staff, is getting married sometime between 3:30 and 5:00 today. Evidently these things never start on time here. Most of the staff, drivers, and translators want to attend. Team 51 was invited as well. In order to honor this man and those wanting to attend the wedding, it was decided to combine the medical groups and "double-team" one of the mobile clinic sites. We saw 126 patients by noon. This enabled the locals and many of our team to attend a beautiful marriage ceremony for Jude and his bride. Dan and I chose to stay at the compound and work on a drug formulary and inventory for the medical teams.
---
At around 2:30 we learned that the unrest in Port-au-Prince has closed the airport until Monday.
---
With a backlog of passengers, our departure is not until Wednesday, December 15. This means we don't get back to WV until Thursday, Dec. 16. We broke that news to the team upon their return and let it sink in for a while. After some prayer, reflection and some rare phone calls home, the joviality of the team returned. We seriously get a lot of work done, but we realized that the Haitians are now "getting" our sense of humor and are starting to crack jokes back at us. The pharmacy workers are good as gold. Most have very little formal medical education but their on-the-job training has been excellent. Mike and Tamare, both around 20 years of age, lit up when I said I would be proud to work with them in my pharmacy.
The construction team, which spent the first part of the week doing projects at the local police department, finally got to build some of the pre-fabricated shelters provided by Samaritan's Purse for those displaced by the earthquake. The one they finished today, the typical 12 x 12 foot blue tarp, tin roof, wood frame structure will house a family of eight persons. For all the dis-organized mess that is Haiti right now, there are rules to follow for shelter placement. Those who receive a shelter must be able to prove ownership of the property or be a valid renter as proved by the owner or surrounding neighbors.
DAY 6- PURPOSE AND PROVIDENCE
God revealed to us today the purpose for keeping us here for a few unscheduled days. Samaritan's Purse operates a cholera hospital in Cite Soleil. Cholera is easily transmitted in this environment and the epidemic was spreading death and panic throughout the area. The hospital has a medical team completing their deployment and leaving tomorrow and the next team can't get in until a charter flight arrives late Sunday. This leaves the hospital extremely short-staffed. Teams work 24 hour shifts starting at 2am since it is safer to get through the city at that time. Without a solution, the Samaritan's Purse staff was praying for God to provide 5 medically trained persons to staff the hospital. That's at the very least a bold request considering this is 2010 post-earthquake Haiti. As they prayed, Dr. Steve Daub was walking up to the Samaritan's Purse facility to see if there was anything we could do since we had some free time this weekend. He told them we had 3 doctors, 2 nurses and a pharmacist if we could assist in any way.
---
Perfect timing? God's timing.
---
In an obvious plan orchestrated by God, we rejoiced and responded.
After giving thanks to God for his provision, the SP staff came to meet and instruct us. As a part of this conversation, they mentioned they had run out of a certain IV administration set, vital to the cholera treatment and had been praying for God's provision. Our clinics had no use for this item, but someone in the states had given us a suitcase full of this exact item to bring, so we did. Now we know why. OK Father, we get it. "Ask and it will be given to you; seek and you will find; knock and the door will be opened to you." Matthew 7:7
http://fbcbridgeport.org/wp-content/uploads/gwen-consult_resize.jpg
350
622
Randy Gum
http://ecbiz194.inmotionhosting.com/~fbcbri6/wp-content/uploads/FBC-logo-header-01-01-300x59.png
Randy Gum
2016-06-22 12:50:49
2016-06-23 09:07:23
Eleven Days in Haiti: Part 7 – Roller Coasters, Purpose, and Providence