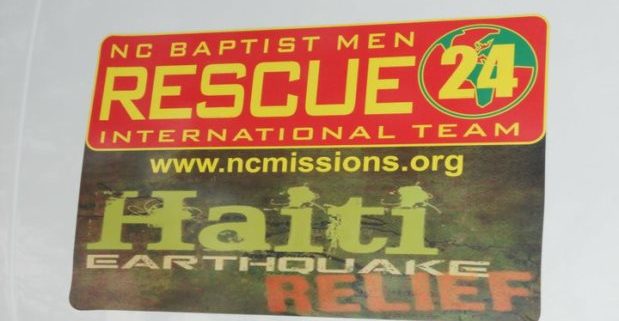 For Fellowship Bible Church, the response to the Great Commission of Matthew 28:19 has been to "Proclaim the Word, Equip the Saints, and Go Into All the World". In fact this has become the mission statement of the church for many years.  The fruit of such effort has been evident by seeing many of God's people respond to the call of local, national and worldwide mission opportunities.  Conversations with those who returned from a recent Haiti mission have caused a re-connection of sorts to a mission trip I took in 2010.  I created a daily journal while in the Port-au-Prince area nearly a year after a devastating earthquake struck that city. Over the next few weeks, I'd like to share my journal in a series of posts that I hope will be enlightening and encouraging to those contemplating missions involvement.
Randy
---
PROLOGUE, Part 1
The journey for me started in June of 2010. I received an email, forwarded from my cousin, Danny Phillips, a physician practicing in Roxboro, NC. Dan and I had spent a good bit of time together, separated by just a few miles, until college, marriage and careers kept us apart for most of our adult lives. We kept in touch mainly by phone, mail and e-mail. We'd see each other at funerals and weddings and knew we should spend more time together but it rarely happened. The June email was a surprise though. Dan was in Haiti. Really, Haiti? I pictured him hunkered down on some cruise ship, soaking up the sun, eating fresh pineapple and rejuvenating himself with the occasional massage and fruity tropical beverage. And yet that does not accurately reflect his adventurous spirit.   Not this time. The drinks were only tropical in that they were served near the equator and were comprised of powdered Gatorade dissolved in a Nalgene bottle. Dan was serving God in the blighted neighborhoods of Port-au-Prince and the nearby mountain villages on a medical mission trip. The disaster relief from the earthquake of January 2010 was ongoing and teams of volunteers, working through North Carolina Baptist Men, were constructing shelters and seeing over a thousand patients weekly through mobile clinics. Dan's team was doing OK but he said what they really lacked was a pharmacist.
---
That statement was my wake-up call, and my invitation, to recruit a team and serve with Dan on his next trip.
---
I never thought I had any skills worthy of the foreign mission field, yet there it was…my call from God, through my cousin, to serve His people in Haiti. Through many conversations over the next weeks, I recruited a group of three others from Bridgeport: a nurse, a skilled contractor, and a willing young lady yearning to serve God with us in whatever capacity needed. Team 51, as assigned by NCBM would depart for Haiti on Dec. 5, 2010.
My initial contact was Gwen Cornman, a nurse whom I have known and respected for a long time. Her outstanding nursing skills and vast experience, however, were not why I sought her. I know more about Gwen's heart for the Lord, for missions, for children and for the lost and hopeless. Her compassion is at least as important for this team as any scientific understanding or ability. The other two Bridgeporters sought me out after hearing of the trip. Jonathan Peterman, a skillful contractor and electrician, had been to the Gulf Coast to assist in restoration after Hurricane Katrina. Jenna Weightman, a high school senior, was undeniably the least experienced team member, but had helped with some local projects and had a desire to serve that was second to none. Dr. Dan recruited his brother-in-law, Ed Stalnaker from the Fairmont area, who got two other men from his church, Butch Burnside and Raymond Rouzee, to complete the construction team, along with Ryan Thomann, Dan's nephew. We also pulled in Jaclyn Green, a North Carolina nurse practitioner, and physicians Steve Daub from Greenville, NC and John Gall from Louisville, KY.
The West Virginia crew and the locals from North Carolina met at Dan's house Saturday Dec. 4 for dinner, a meet-and-greet, and some final organization for the trip. Dan and his wife, Sandy fixed a great dinner. Admittedly, it was the first time Dan had grilled burgers in the snow, which had been with us most of the trip south. Drs. Daub and Gall were to meet us the next day during our Miami layover for the flight to Haiti.
http://fbcbridgeport.org/wp-content/uploads/haiti-cover.jpg
350
619
Randy Gum
http://ecbiz194.inmotionhosting.com/~fbcbri6/wp-content/uploads/FBC-logo-header-01-01-300x59.png
Randy Gum
2016-05-18 14:43:47
2016-05-18 14:44:19
Eleven Days in Haiti: Part 1 Series Intro